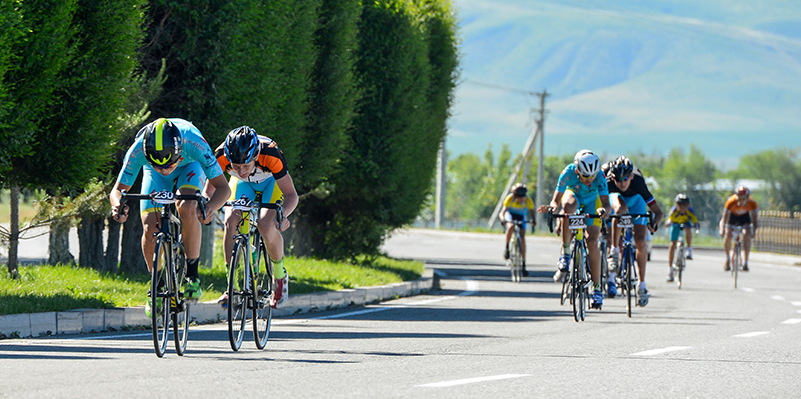 GRAN FONDO is the world's most famous and popular road cycling race, combining both professional athletes and cycling enthusiasts on one track. The Gran Fondo Kazakhstan Tour of Zhetysu route is laid on the most picturesque places of the Almaty region. Hills, steep ascents and smooth descents - this is a unique asphalt track, which will not let your participants get bored!
Ride a lot or a little, long or short, as you like - but ride. Edie Merks
The history of mass cycling Gran Fondo began in Italy more than 100 years ago. During this time, the event has become one of the most popular in Europe and around the world, from Italy to South Africa, from California to New Zealand. The special energy and atmosphere, the enthusiasm of the participants and the support of the audience - this is what conquered many countries, where dozens of Gran Fondo races are taking place.
Finally it became available to us! Gran Fondo is not only an exciting bike ride, but also a great opportunity for each participant to express themselves and set their personal record!
Targets and goals
Development and popularization of cycling;
Promotion of healthy lifestyles;
Improving of the athletic skills of participants;
The development of domestic and foreign tourism.
Time and place
Competitions are held 09.06. 2019 on the roads of the Almaty region.

08.06.2019. Arrival day.
9:00 – 17:00 Registration of racers issuing starter packs
(Taldykorgan city, 22 Konaev street, Palace of Sports «Zhastar»)
09.06. 2019
8:00 – 11:00 Registration of racers issuing starter packs. Mukry village (Almaty region) memorial of N. Aldabergenov.
11:30 Grand opening at the Mukry village (Almaty region) memorial of N. Aldabergenov.
12:00 Start of the road race for all categories.
How to get to the start
Transfer will be arranged from Almaty. Transfer is charged separately, the cost tothe both ends 4000 tenge.
Transfer Schedule:
Departure from Almaty is at 06:30 09.06. 2019 from the intersection of Baitursynov-Satpayev Street (Astana Hotel).
Departure back to Almaty is at 09.06. 2019 at 6 pm from Mukry village (Almaty region) memorial of N. Aldabergenov.
ATTENTION: Bicycles are transported by truck. In order to avoid deterioration and breakage of bicycles, all participants are requested to ensure in advance the safe packing of bicycles and equipment in special covers and (or) bicycle boxes. The organizers are not responsible for the damage and preservation of bicycles.
Order and transfer payment on the official launch site granfondo.com.kz
Requirements for participants
Regional, international and international teams and clubs are allowed to participate. At the time of the start, the participant should not be: under the age of 18, there is no upper limit on age.
Athletes are allowed to participate only on road bikes.
Strongly recommend that all participants undergo a medical examination and have insurance against unforeseen circumstances.
During the competition, athletes can develop high speed, so participation is potentially unsafe.
By applying for a race, participants take responsibility for their health and all possible risks associated with participating in competitions, and free the organizers from any material, civil or criminal liability in case of physical or material damage suffered by them in the process of direct participation in the race.
Participants guarantee that they are aware of their state of health at the time of launch, of the limits of their own physical abilities and the level of their technical skills.
Before receivingthe starting package, each participant, signs a receipt for the withdrawal of responsibility from the race organizers.
A certificate from the doctor about admission to the competition is not required.
Athletes are required to ride in helmets (helmets) throughout the race.
Contacts
Contact e-mail of the organizers: samatkz-83@mail.ru

Tel.: +7 777 250 94 13 (Samat Sapazhanov)